Y-Type Pressure Seal Bonnet Globe Valve
Product Detail
Product Tags
| | |
| --- | --- |
| Casting |   |
| Carbon Steel | WCB,WCC |
| Low Temperature Steel | LCB,LCC |
| Stainless Steel | CF8, CF8M, CF3, CF3M, CF8C, CF10, CN7M, CG8M, CG3M etc. |
| Alloy Steel | WC6, WC9, C5, C12, C12A |
| Duplex Steel | A890(995)/4A/5A/6A |
| Nickel-Based Alloy | Inconel625/825, Hastelloy A/B/C etc. |
| | |
| --- | --- |
| Forging |   |
| Carbon Steel | A105 |
| Low Temperature Steel | LF2 |
| Stainless Steel | F304,F316,F321,F347 |
| Alloy Steel | F11, F22, F5, F9, F91 |
| Duplex Steel | F51, F53, F44 |
Manual, Gear box, Actuator operated, Pneumatic operated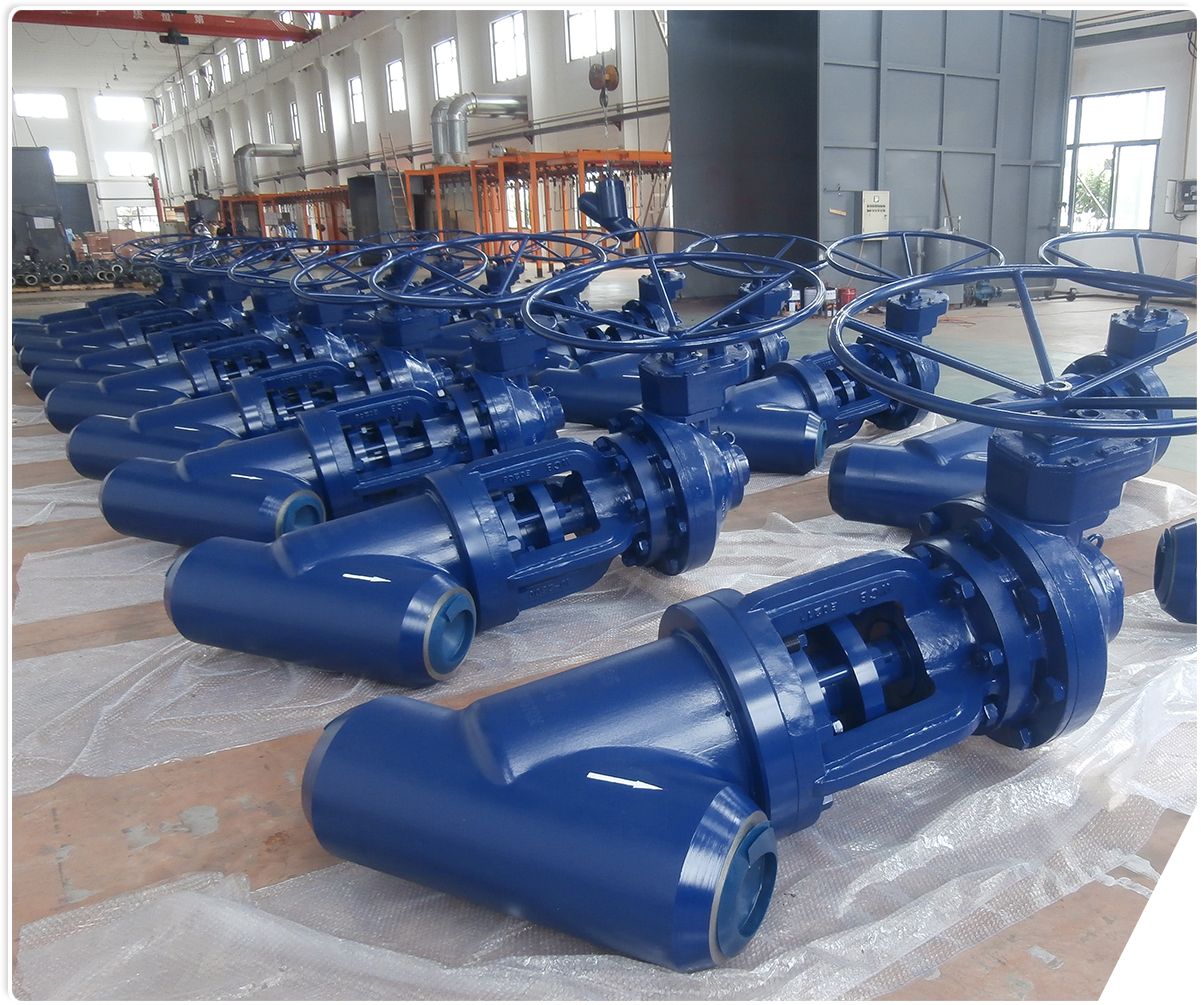 1. The flow channel of the Y-type globe valve has lower flow resistance, which is more energy-saving than the T-type globe valve.TH-Valve Nantong's globe valve features in top and bottom-guided disc which can assures stem operation without side thrust caused by high pressure flow. The non-rotating stem results in lower friction of all moving parts and longer stem packing life. All this resulting in smooth, easy operation and tight shutoff under extreme pressures.
2. TH-Valve Nantong's globe valve proven pressure seal design to ASME B16.34. Live-loaded pressure seal bonnet bolting on NPS 6 and larger as a standard.
3. Superior strength forgings and high quality castings are used as our body materials.
4. Body guided disc eliminates side thrust and provides longer disc, seat and body life.
5. Impactor handwheel for tight shutoff.
6. Designed in accordance with API623 requirements, the thicker valve stem diameter makes it have higher strength, coupled with our precise machining, our valve stem has better sealing performance with little to no maintenance over long periods of time.
7. Non-rotating stem requires lower operating torque.
8. The body and disc are CoCr alloy hardfaced on seat contact and disc guiding surfaces, which provides maximum resistance to erosion and wear.
9. Optional live-loading of packing extends low emission service life especially in service with large pressure/temperature transients or frequent cycling.
Other sizes and pressure classes are available, contact us today for specifications. 
---
Previous:
Pressure Seal Bonnet Globe Valve
---